How can I register for the event?
You can register for the event online at http://HLbalancedlifeyoga.com.sg Please note that this event is opened for women and men.
How much to register?
$29 per participant. $20 per participant for group of 5 in one sign up. Price quoted includes 7% GST and are in SG Dollars.
Registration closes on July 24, or when the event hits full capacity.
What will I enjoy as a participant?
Poise yourself for a day of perfect balance with 75-minute of yoga session while enjoying the scenery!
GOODIES! You will receive a yoga mat, t-shirt and more goodies from our kind sponsors valued over $80!
What is the minimum age to participate?
You must be at least 18 years old (as of 30 July 2017).
How do I know if I have been officially registered?
A confirmation slip will be made available to you after payment is received successfully. The registration confirmation will also be sent to the email address that you have provided during the registration process.
How do I cancel my registration?
Your registration is a final sale and cannot be refunded even where the event should be cancelled.
Can I join if I have no experience?
All levels are welcome!
What do I need to bring?
Be sure to present your confirmation slip & photo ID upon registration. Please stay hydrated and bring a bottle of water. Where can I change? Please arrive in your sports gear as we will experience a high number of participants. There are available rest rooms in the venue.
What happens if I feel unwell during the workout session?
Stop immediately. Do approach our staff if you require immediate medical attention.
Whilst the necessary precaution is taken by the Organisers to ensure the participants' safety, participants will take part at their own risks and the Organisers, their sponsors and their appointed officials shall not be liable for any death or injury, loss or damage, suffered or otherwise and howsoever arising. The Organiser reserves the right to remove any participant deemed physically incapable of continuing with the fitness event to prevent her from causing greater harm and injury to herself.
What happens if it rains?
This is a rain or shine event. In the event of rain, our wet weather plan will kick in.
How do I get to the venue?
Address: The Meadow @ Gardens By The Bay
31 Marina Park, Singapore 019191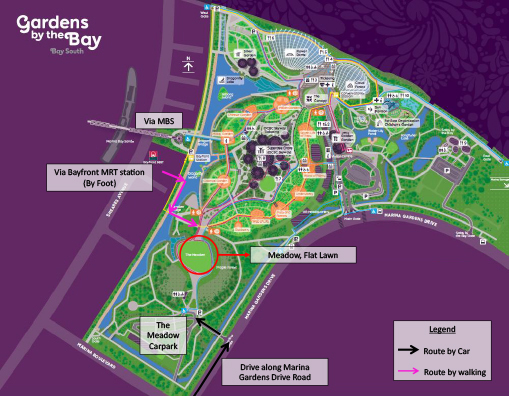 Train & Bus
Via The Circle Line Or Downtown Line
- Alight at Bayfront MRT Station (CE1/DT16)
- Take Exit B and follow the underground linkway
- Exit and cross the Dragonfly Bridge or Meadow Bridge into Gardens by the Bay
Via The East-West Line
- Alight at Tanjong Pagar MRT Station (EW15)
- Take Exit C and head towards bus stop no. 03223 located at International Plaza, Anson Road
- Hop onto bus no. 400 and alight at bus stop no. 03371 along Marina Gardens Drive
Walking Here
From The Helix Bridge Towards The Art Science Museum
- Follow the footpath which leads under the East Coast Parkway (ECP), which will bring you directly into Bay South Garden along the waterfront.
From Marina Bay Sands
- Walk across the overhead bridge (Lions Bridge) located at Marina Bay Sands Hotel (open daily from 8.00am to 11.00pm), or take the underground linkway via Bayfront MRT Station (Exit B).
Driving Here
From East Coast Parkway (ECP) And Kallang-Paya Lebar Expressway (KPE) In The Direction Towards the City
- Continue onto Marina Coastal Expressway (MCE)
- Take Exit 3 onto Central Boulevard
- Turn right into Marina Gardens Drive
From Ayer Rajah Expressway (AYE) In The Direction Towards The City
- Continue onto Marina Coastal Expressway (MCE)
- Take Exit 2 onto Central Boulevard
- Turn right to Marina Gardens Drive
From Ophir Road
- Head towards Sheares Avenue
- Exit onto Marina Boulevard
- Turn left to Marina Gardens Drive
Others
The Organiser reserves the right to use any photograph, motion picture recordings, or any other record of this fitness event and its participants for any legitimate purpose, including commercial advertising.
The Organiser reserves the right to amend the Rules and Regulations without giving prior notification or any reasons thereof.
Pets are not allowed on the event site.
Kindly note all goodie bags will be issued at event and there will be no redemption of goodie bags for participants who missed the event.